<!BODY BGCOLOR="#99F5C9" TEXT="#004080" LINK="#000000" VLINK="#000000" ALINK="black"> <!BODY BACKGROUND="aflag.JPG">



<!BR> <!BR> GOD BLESS ARIZONA

<!BR><!BR> <!table border=12> <!tr> <!td> <!center><!img src="it-counts.gif" padding="0"><!img src="it-counts.gif" padding="0"> <!img src="it-counts.gif" padding="0"> <!/tr> <!/td> <!/table border> <!BR><!BR>
<!center>


The U.S. Government in Washington DC became incensed that Arizona and
Governor Jan Brewer would codify federal immigration law into state law.
Arizona has a severe problem with illegal immigration, and state citizens
became angered that hard-earned tax dollars were being used to protect
illegal alians who had invaded the state.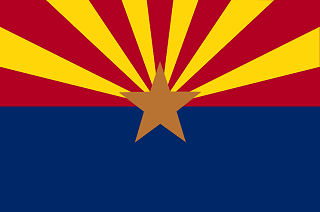 HERE ARE SOME OF THE FACTS THAT
LED ARIZONA to SELF-PROTECTION.
Protection of the states from a foreign invader rests directly on Washington DC. <!BR>


The local Arizona sheriff's have been attempting to protect Arizona citizens for many
years without any help or assistance from the federal government in Washington DC.
The most notable Arizona Sheriffs are Paul Babeu of Pinal County and Joe Arpaio of
Maricopa County. Both have been sued by the federal government under the discretion
and approval of Barak Obama.


Arizona police and sheriff department personnel are sworn to protect the citizens of
the state and uphold the law. And, while Arizona sheriffs are upholding both state and
federal law, the Obama administration is trying to distract them by filing many law suits.


The citizens of Arizona finally had enough with Washington politics and political correct-
ness. They passed state law that was identical to federal law in the protection of citizens
against a foreign invader. Washington would not obey the law and they would make sure
that Arizona would not have such a law for the protection of its own citizens.


Arizona Governor Jan Brewer signed the citizen protection bill into law which directed
state sheriffs departments to protect the citizens.


The Obama White House directed Attorney General Eric Holder to file suit against Arizona
Governor Jan Brewer for making federal immigration law into state law.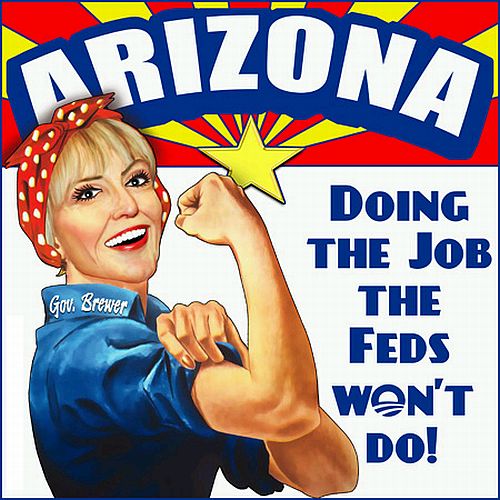 Governor Brewer has the intestinal fortitude, and the backing of Arizona citizens, to
enforce Arizona state law (which is actually federal law and therefore should be enforced
by the federal government) and to protect state citizens from enemies both foreign and
domestic.
<!P>
<!BR><!BR><!BR> <!BR>

Political Correctness in Washington DC is putting the
safety and well being of Arizona citizens in jeopardy.

<!BR><!BR> IT'S TIME TO TELL THE FEDS TO SHOVE IT !

<!BR> CLICK HERE to read about the invasion of the US Southwest.